Discover Your Serene Haven: Cozy Mobile Home in Santa Paula Community
Posted by Michael Szakos on Wednesday, August 16, 2023 at 12:09:10 AM
By Michael Szakos / August 16, 2023
Comment
Are you ready for an extraordinary opportunity? Picture yourself in a cozy mobile home, tucked away in the tranquil embrace of Santa Paula's charming community. This snug haven promises you a simple yet enchanting place to call your very own. Step into a life where comfort meets serenity, and every day feels like a retreat.
Introducing Your Cozy Haven
Nestled in a peaceful corner, this mobile home offers more than just a place to live – it offers a lifestyle. Imagine waking up to the gentle touch of sunlight filtering through your windows, painting your living quarters in a warm embrace. This snug abode ensures that you're always greeted by the soothing embrace of natural light, making your home feel like a cozy cocoon.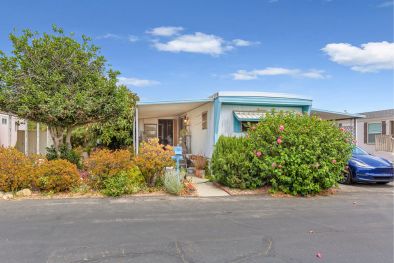 Endless Possibilities Await
But that's not all. Step outside into your spacious backyard, a canvas for all kinds of delightful activities. Whether you're in the mood for a mouthwatering BBQ feast with friends and family or just a quiet evening of unwinding after a long day, this space invites you to create unforgettable memories. The open expanse is your playground, offering the freedom to design your outdoor haven however you please.
Start Your Day with Breathtaking Views
Imagine the perfect morning. You step outside your doorstep, cup of coffee in hand, and gaze out at the breathtaking panorama of mountains stretching before you. That's the everyday magic this home offers. With captivating mountain views right at your doorstep, you'll feel a profound connection to nature that's both invigorating and calming.
Our Homebuyer's Guarantee
We understand that purchasing a home is a big decision, and your satisfaction is our top priority. That's why we're excited to offer an exclusive guarantee: "If you are not satisfied with your Home Purchase, We will BUY IT BACK or SELL IT FOR FREE, GUARANTEED!"* This promise reflects our confidence in the quality and allure of this home. Your happiness is our commitment, and we stand by it. To learn more about this awesome guarantee, click here.
Experience the Enchantment Today
Don't just imagine – make this dreamy mobile home yours. Experience the enchanting charm that awaits you in Santa Paula. Whether you're seeking a peaceful sanctuary or a place to host unforgettable gatherings, this home offers it all. Schedule a showing today and step into a life of comfort, serenity, and endless possibilities.
Your cozy retreat in Santa Paula is calling. Will you answer?
(*Terms and conditions apply. Contact us for more details.)